Introduction to Workday and Navigation
We held a live Webinar for this Functional Overview on February 24, 2022. This session included a question and answer session, as well as an overview of many of the resources on this page.
You can watch the full webinar session by clicking the button below, or you can explore the resources on this page to get a brief overview of what was covered.
Workday Home Page
The Workday home page is your launching pad for any task you need to do in Workday. Below is a preview of what that home page will look like: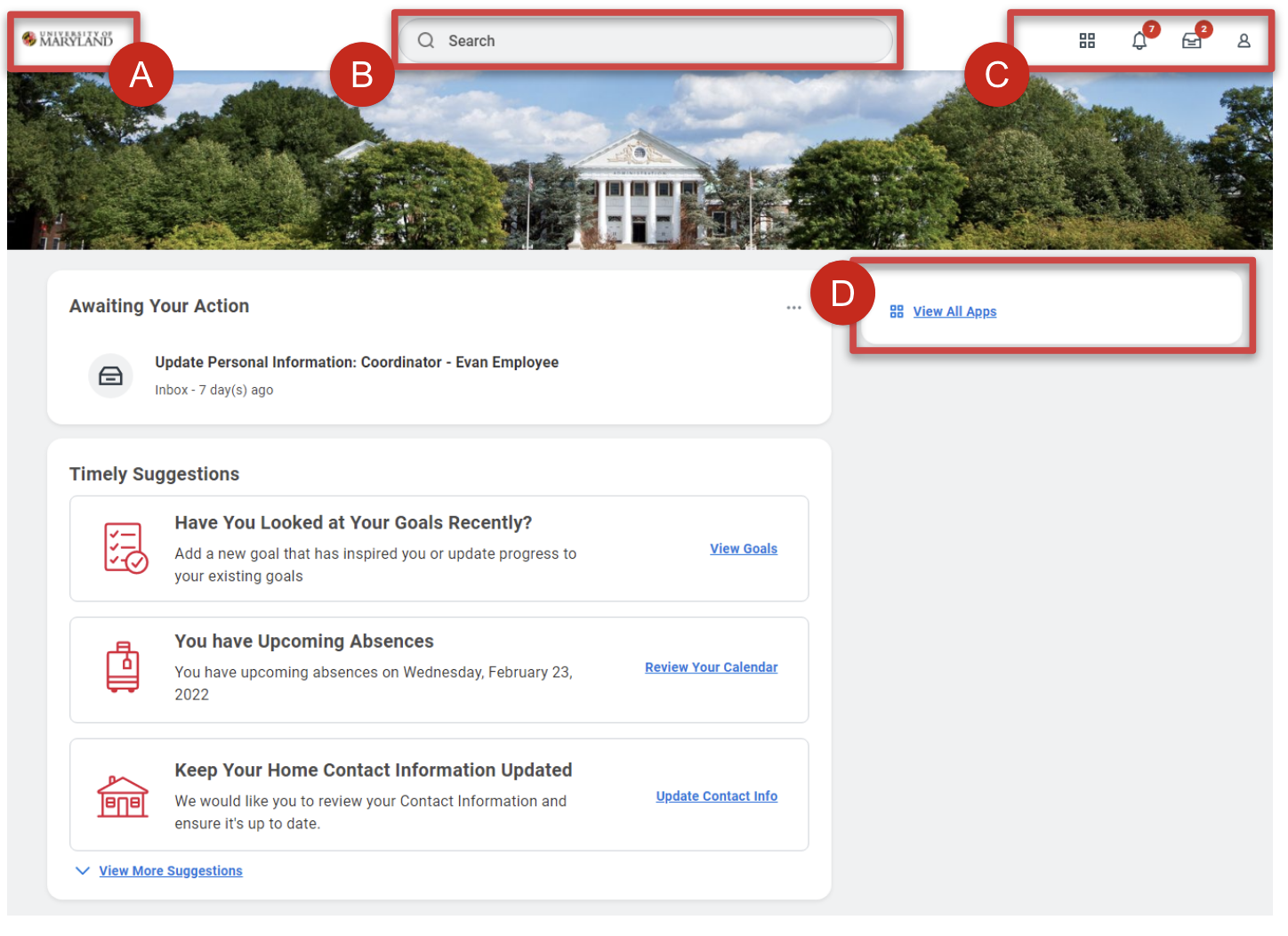 A. The Home icon lets you navigate back to the homepage
B. Find information using the search bar
C. Access to your favorites and most commonly accessed apps, notifications, the Workday Inbox, and your Workday Profile
D. View all your applications (apps)
Workday Navigation Demonstration
In this video demonstration, learn more about:
the Workday homepage
Applications
Notifications
Inbox
Worker profile
Organizational chart
Search bar
Featured Glossary Terms
Landing Page
Landing pages display application icons for easy access to the data and tasks available in dashboards and worklets. The Home landing page is intended for common application, such as self-service applications. Optional applications can be added and removed from an individual's landing page through employee self-service.
Notifications
Alerts or reminders sent in Workday/via email to specified participants upon entry or exit of a step in a business process.
Worker Profile
A quick view of each individual Worker's demographic, job, and organization information. Worker data is viewable in the different tabs of the Worker profile, and view/edit access to this data depends on one's security role access.
Supervisory Organization
Supervisory organizations group workers into a management hierarchy. Jobs, positions, and compensation structures are associated with sup orgs and workers are hired into jobs or positions associated with a supervisory organization.